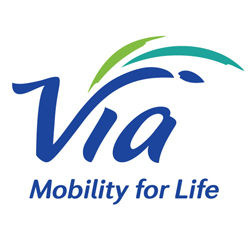 Transit Trainer
Boulder, CO
Health Insurance, Life Insurance, Dental Insurance, Vision Insurance, Disability Insurance
Want to be a part of training and professional development in an environment serving a multitude of different types of transit?
Ready to make an impact on your community and leave work feeling like you made a difference?
Do you find yourself thinking from a compliance or safety perspective?
Do you enjoy working as part of a team?
Is customer service one of your strengths?
Did you answer yes to any of these questions? If so, then Via Mobility may be the place for you!
Being a Transit Trainer has its Advantages
You will work with other dedicated professionals who share your passion for helping individuals in need.
We Offer
Starting pay range for the role is $17.25-25.00 per hour.
Schedule: 4- or 5-day work weeks, with flexible start/end time
A fun and supportive environment with an emphasis on cooperation and collaboration
A role where you can interact and make a difference in a life
Employee Discounts including Verizon Wireless, Boulder Rec Center, and more  
The ability to bring your dog to work with you!
A role where you can grow and put your innovative skills to work
Duties / Responsibilities
As a Transit Trainer, you will train, certify, and evaluate new drivers as well complete retraining, recertification and return to service training across all divisions of the organization. Some of this training includes but is not limited to, passenger assistance, safety and sensitivity (PASS), defensive driving, transit security, driving skills, vehicle inspections and operation, transporting passengers with disabilities, CDL preparation and completing compliance checks as part of our safety team. 
This role will be supporting the Boulder and/or Denver locations.
Qualifications
Must be at least 21 years of age
High School Diploma/GED
Must possess or be able to obtain and maintain a valid DOT Medical Examiners certificate
Must possess or be able to obtain and maintain a valid State of Colorado B-P2 Commercial Driver License (CDL)
Must be insurable as determined by Via's insurance carrier
Strongly prefer a candidate with working knowledge of all subject areas
Strongly prefer a candidate with computer skills including MS Suite (Word, Excel, PowerPoint) experience
Competitive Benefits
Paid Training! Paid Time-Off!
Guaranteed wage increases every year!
Medical, Dental, Vision, Flexible Spending Account
Employer-paid Life Insurance
403b Retirement Plan
Employee Assistance Program Employee Assistance Program
Access to Pet Insurance discounts
Special employee-only discounts 
Credit Union Memberships
Public Service Loan Forgiveness (PSLF) Program
Stability and longevity with a growing, sustainable, and innovative company
There are a few ways you can apply:
• Click "Apply now" to email your resume today or to link to our site
• Call the number provided and to get more information and to schedule your interview.
About Us
Via was born in Colorado in 1979, as a way to promote independence and self-sufficiency for people with limited mobility by providing caring, customer-focused transportation options. We also serve our community through volunteer driver training programs, disability awareness education and advocacy, human service collaborations  and partnerships, community transit offerings and contracting capabilities.
We are an Equal Opportunity Employer.
74007419