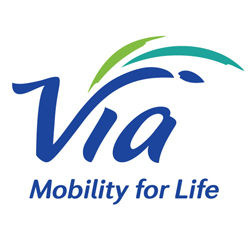 Non-CDL Drivers
Denver, CO
Vision Insurance, Life Insurance, Health Insurance, Dental Insurance, 401K / Retirement plan
Via is seeking friendly, helpful Non CDL Drivers wanting to make a difference by safely transporting older adults, people with disabilities, and those with mobility limitations through our Access-a-Ride transit service.
Part-time and full-time positions are available. Your schedule will be 20–40 hours a week. No Commercial Driver's License is required.
Why Via? 
• $17.00 per hour base salary with additional Differential Pay, Holiday Pay and Bonuses!
• Personal Protective Equipment- Masks, Gloves, Sanitizer
• Vehicles sanitized daily
• Paid Training!
• Paid Time-Off!
• Guaranteed wage increases every year!
• Medical, Dental, Vision, Flexible Spending Account and Life Insurance
• 403b Retirement Plan
• Employee Assistance Program Employee assistance Program
• Access to Pet Insurance discounts
• Special employee only discounts 
• Credit Union Memberships
• Public Service Loan Forgiveness (PSLF) Program
• Stability and longevity with a growing, sustainable, and innovative company
Transport Driver Responsibilities:
• Safely operate a paratransit vehicle and transport passengers across the Front Range.
• Communicate and assist passengers with disabilities and special needs.
• Adhere to Via's Standard Operating Procedures.
• Daily coordination with Dispatch on scheduling, routing, and special requests.
• Maintain a clean vehicle and clean person at all times.
• Greet passengers, ensure fare payment, and maintain a safe environment.
• Other duties as required
Transport Driver Qualifications:
• 21 years old or older with a high school diploma, GED, or equivalent
• Possess a valid driver's license in good standing
• Reliable work history with strong punctuality and attendance
• Must pass physical, random drug testing, and ongoing Motor Vehicle Records checks
About us:
Via was born in Colorado in 1979, as a way to promote independence and self-sufficiency for people with limited mobility by providing caring, customer-focused transportation options. We also serve our community through volunteer driver training programs, disability awareness education and advocacy, human service collaborations  and partnerships, community transit offerings and contracting capabilities.
There are a few ways you can apply:
• Click "Apply now" to email your resume today.
• Call the number provided and to get more information and to schedule your interview.
We are an Equal Opportunity Employer.
27935786